This RPG is considered dead. It has been abandoned by the author. No more comments may be posted on this page.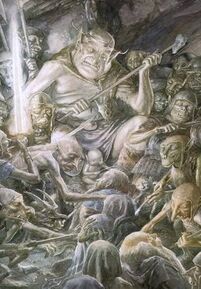 A RPG based on Raymond. E Feist's works and The Lord of the Rings.
Story
Deep in the forests of Azer orcs and worse pour out on the four kingdoms.  A small band of warriors has been formed to deal with them.  Will they suceed?
Rules
1. Follow the wiki Rules
2. No invincible chars
3. No modern weapons!
4. No swearing
5. No Mary Sues!!!!
The Four Kingdoms
Halder
Elves
Capital Yoldern
The Empire of Tesdern
Humans
Capital Revon
Ered-Glordel
Dwarves
Capital Utarn
Saver
Humans
Capital Vrel
Character Sheet
1.Name
2.Gender
3.Race
4.Personality
5.Clothes\Armor
6.Weapons
7.History (optional)
8.Alignment
9. Nation
Ad blocker interference detected!
Wikia is a free-to-use site that makes money from advertising. We have a modified experience for viewers using ad blockers

Wikia is not accessible if you've made further modifications. Remove the custom ad blocker rule(s) and the page will load as expected.